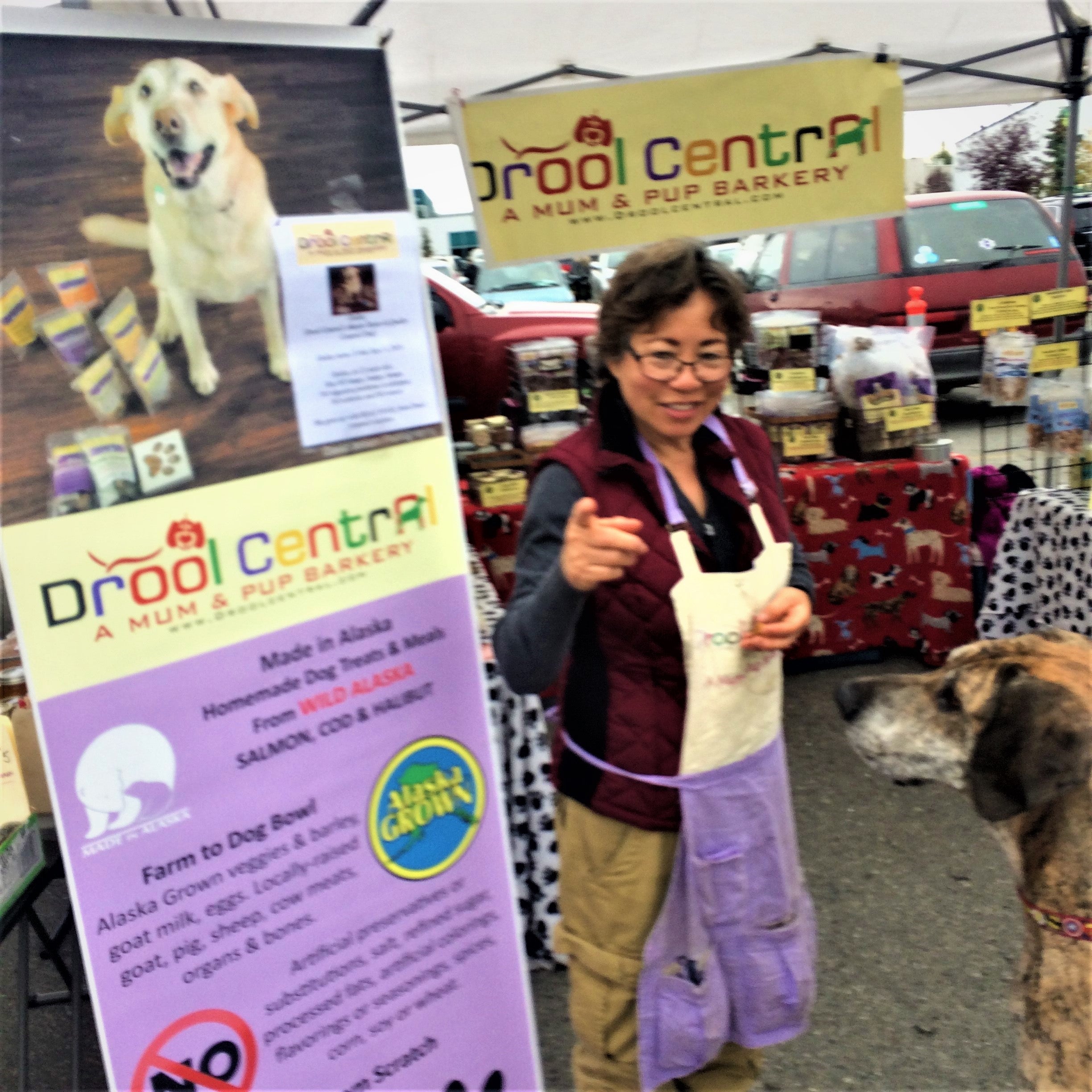 Kiva Crowdfunding for a Brick & Mortar
https://www.kiva.org/lend/2143171
Drool Central: A Mum & Pup Barkery was born out of necessity to feed my then adopted yellow labrador food from nature and not concocted from a lab. A business mission to focus on using Alaska's natural resources, Thus, wild Alaska fish from salmon, cod, halibut are in full use from their skins, bones, livers, collars, napes, backbones are sustainably acquired. Adding to that are Alaska Grown vegetables, farm animal meats, and organs, and barley. With the rest of the ingredients added into each treat and meal, resourced naturally and organically. My philosophy is to NOT add or use salt, sugar, processed fats, artificial preservatives, substitutions, artificial colorings, flavorings or seasonings, spices, corn, soy, and wheat. Since the latter part of 2013 in its testing stage, I held firm on this philosophy. I have been operating in a rented house. Every year, the business has been getting busier than the house oven, the sink, the house cannot cope anymore with my production. I would like to have a brick & mortar that I could operate the production, open up a little shop and have a bedroom for me and my puppy. I have in all these years in business operating Drool Central, that I am thankful for its purpose and for its gift of meeting the four-legged and making friends with their dog parents. Because I have proven that my business fulfills the need, and my customers have been satisfied, therefore, I would like to go on and this time, I would like to hire an extra body in a haven where my vision is fulfilled. Every year, my sales have increased dramatically and have proven, that natural good food resourced locally is dog sent. Drool Central has an angle that can't be ignored.
What is the purpose of this loan?
Because money resources in my case are not always available, or so limited, therefore, I resort to Kiva. This is my third Kiva loan. The first two loans I had paid in full and on time. The impact of this loan will be big: Acquiring a brick and mortar by having rent and deposit money; and doing some renovations, purchasing some equipment, too. I am searching for a property that's less than 2,000 sq. ft. or less whether it's a residential structure that I can convert into a shop/production place and that I could have some customers and at the same time have some parking spaces, and not a lot of neighbors in the Anchorage area, probably South Anchorage or Spenard area. I will need two staff as utility and baker/cook to work part-time. The place will need some work setting up a production kitchen area, shop area, and sleeping area. I will need a commercial two-tiered oven, three-compartment sink, and stainless steel tables. I can operate simply, which I have been doing for years. But I want more to operate fluidly and professionally. I have managed kitchens for years, therefore, it wouldn't be a hard transition. I hope that this vision will be manifested this year in 2021 before Christmas. That will be a great sequel to getting back to normal perhaps.
Comments
Alison Seymour
Apr 11 ,2021
A storefront for Drool Central would be beyond wonderful for the Anchorage canine and human community!!
Blog Archive
April 2021
March 2021
November 2020
January 2020
April 2018
February 2018
December 2015
Recent Post